Best 10 personalized modern elegant wedding invitation templates. All invite templates are available for customization.
 
Elegant silver burgundy handwitten script wedding invitation
A chic elegant burgundy and silver trendy border with burgundy handwritten script calligraphy wedding invitations.

Modern silver palm trees teal elegant wedding invitation
Modern simple silver palm trees with simple typography, a trendy and tropical wedding theme on palm tree on an editable teal blue background..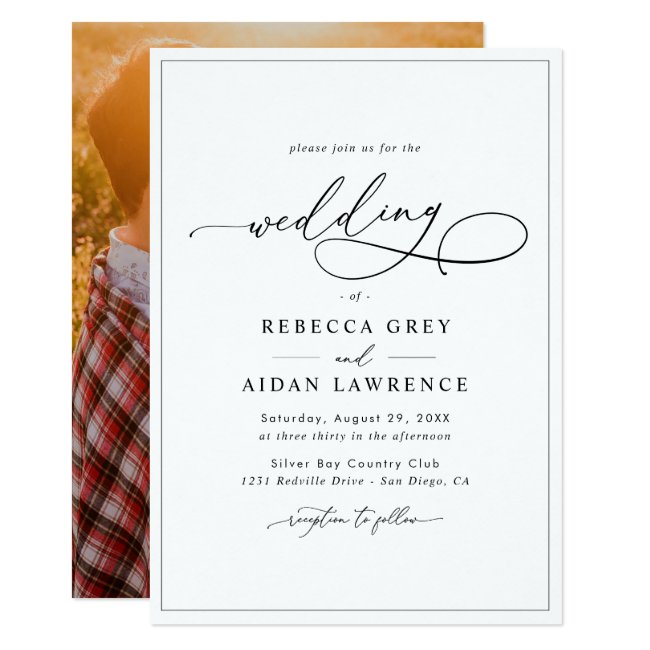 Elegant Script with Photo Back Wedding Invitation
This elegant Photo Wedding Invitation features a sweeping script calligraphy text paired with a classy serif & modern sans font in black; on the back a customizable monogram & option to add your photo. The text and background can be changed to any color to match your theme. To make advanced changes, go to "Click to customize further" option under Personalize this template.

Elegant Rose Gold Foil Autumn Leaf Pattern Wedding Invitation
This elegant modern wedding invitation features a pattern of shimmering rose gold autumn oak leaves on a faux rose gold foil background. The first names of the bride and groom appear in gray handwriting script on a semitransparent double-bordered white rectangle that lets the beauty of the background peek through. Customize with last names and remaining wedding details in gray sans serif type. The rose gold leaf pattern is repeated on the reverse side. Ideal for a fall wedding.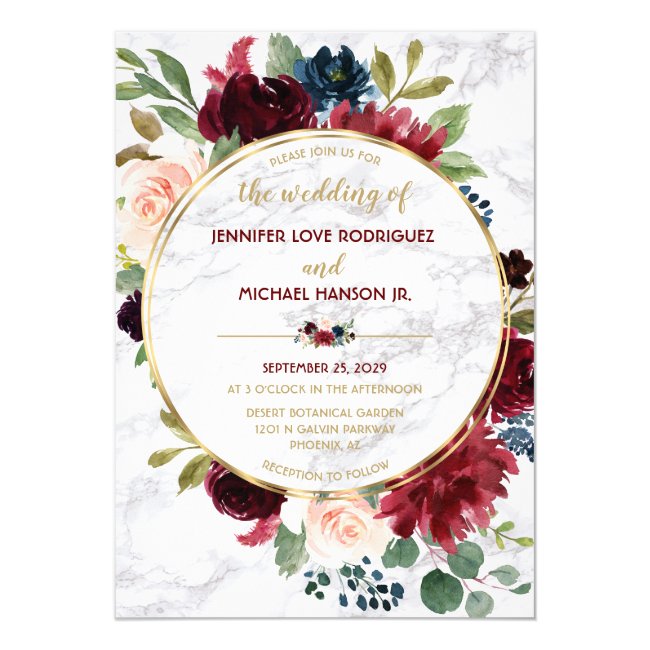 Elegant Marble Gold Rhapsody Floral Wedding Invitation
Are you getting hitched soon and need to mail invitations? We have the answer right here: Why don't you send and tell them that you're tying the knot with this beautiful, chic and elegant Gold Rhapsody in Marble Floral Arrangement Wedding Invitation? The invitation features vibrant watercolor flowers with a faux gold foil effect frame and bouquet arrangement with a marble background. This chic and elegant invitation is easily customized with your text or you can replace the background color to the front and back. So you can customize and personalize this invitation to your liking. Additional Note: The gold foil print is a faux gold foil effect.

White and Gold Marble | Modern Wedding Invitation
Purely elegant wedding invitation for the couple who have decided upon a sheer, chic, and formal ceremony. Layers of white marble with shimmering shades of gold are embraced in a stylish geometric. More product styles are available at Poetic Pastries allowing for a "theme suite' option. Easy to customize templates assure your choices are trouble free. Should any issues or questions arise; simply message the Studio, our doors are always open. And by the way, Congrats for your special day!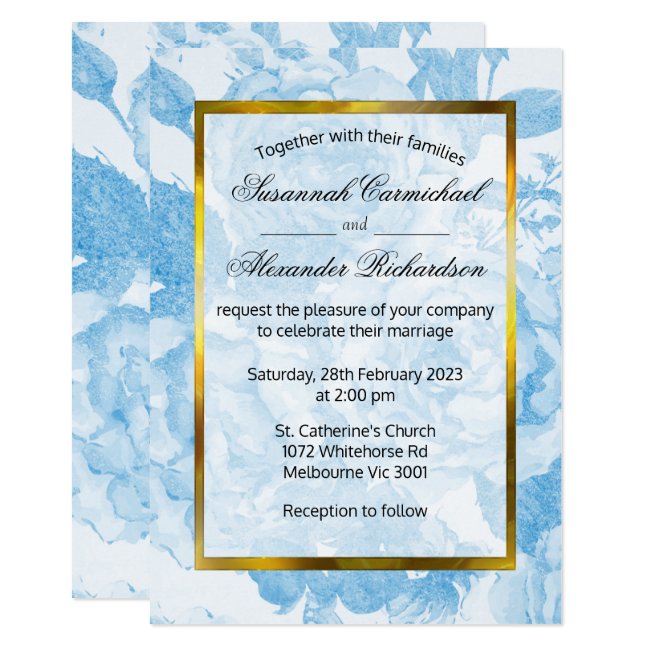 Blue Roses Watercolor Floral Wedding Invitation
This contemporary, modern and colorful floral wedding invitation features a shabby-chic pattern of blue roses in soft, watercolor hues. There is also shiny golden frame around the edge of the text on the front for an added touch of elegance.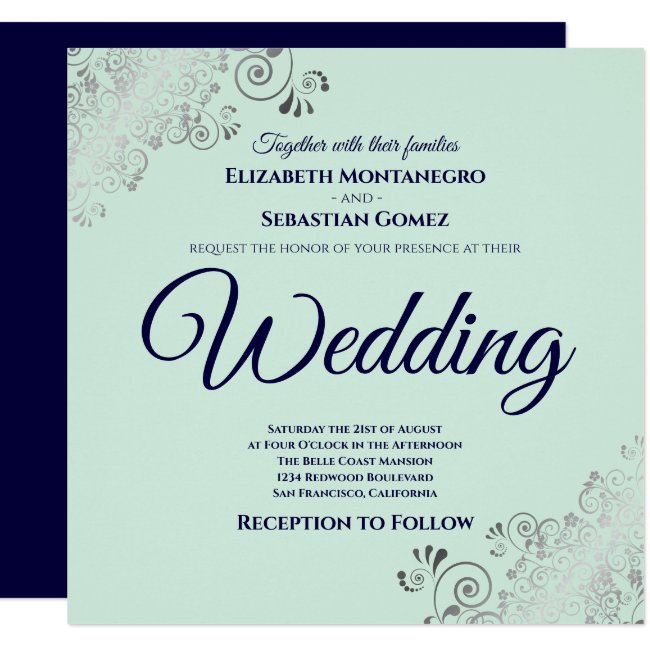 Neo Mint Green & Navy Blue Elegant Square Wedding Invitation
This simple wedding invitation features a pale green or neo mint colored background with lacy silver faux foil curls and swirls in the corners. The wording is formal with elegant script navy blue lettering.

Chic turquoise white gold marble Maid of Honor Invitation
An elegant, modern, white turquoise and faux gold includes a chic marble design with printed faux gold handwritten typography. This Maid of Honor wedding is the perfect print for any bride and groom's Wedding event. Customize this design with your details and monogram initial.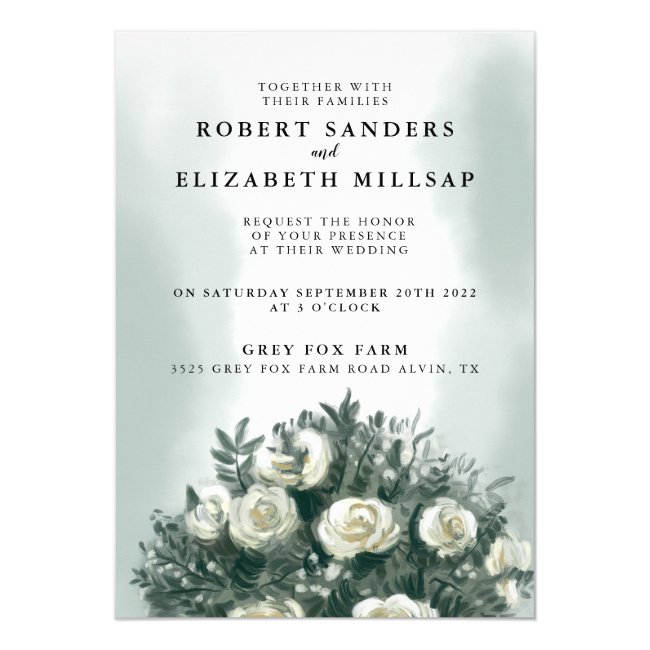 Elegant White Rose Bouquet Wedding Invitation
This elegant and beautiful wedding invitations design features a painted rose watercolor design. The serif typography is modern and clean. This color scheme is great for spring and fall weddings.