Best 10 personalized burgundy wedding invitation templates, you can customize all info and photos
 
Rustic Watercolor Floral Elegant Wedding Invitation
Elegant rustic watercolor floral wedding invitations with beautiful country flowers in blush pink, burgundy, and navy blue. The back of the card is in modern blush pink. Easily add your custom wedding details.

Roses and Sunflower Burgundy Gold Frame Wedding Invitation
Roses and sunflower burgundy marsala elegant gold frame wedding invite. Design features burgundy red, yellow, blue roses, sunflower and gold frame. by hinvitations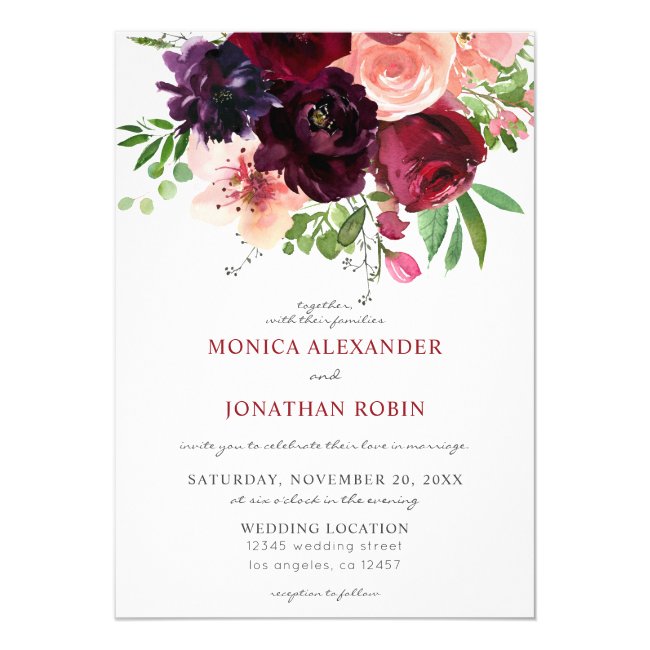 Burgundy & Blush Floral Wedding 2 Invitation
Pick up the popular burgundy & blush floral colors in a watercolor floral invitation for your wedding. Great for rustic weddings and other themes.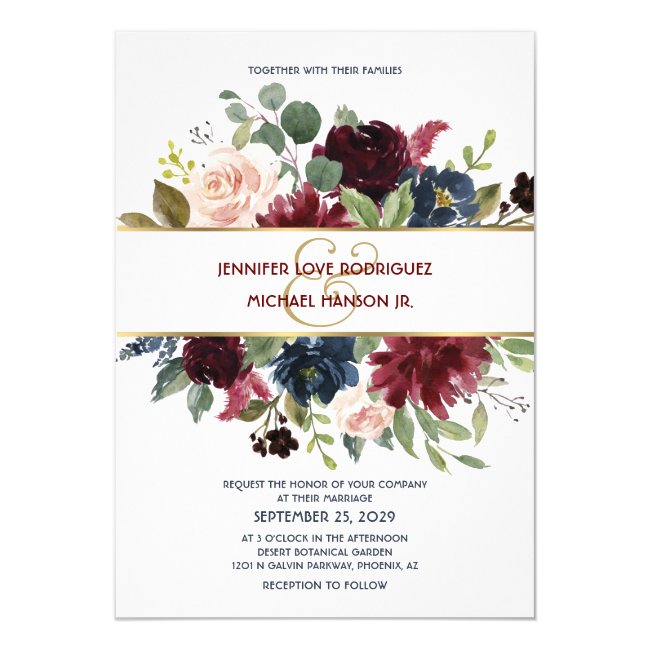 Gold Rhapsody Floral Chic Boho Wedding Invitation
Are you getting married soon and need to mail invitations to your guests? If you answered, "Yes, I do"... We have the answer right here: Why don't you send and tell them that you're tying the knot with this splendid, chic and elegant Gold Rhapsody Floral Arrangement Wedding Invitation? You can customize and personalize this invitation to anything you like. Additional Note: The gold foil print is a faux gold foil effect

Faux Gold Modern Elegant Burgundy Wedding Invitation
by ozdilh cards
Simple Gold Frame Modern Elegant Burgundy Wedding Invitation Template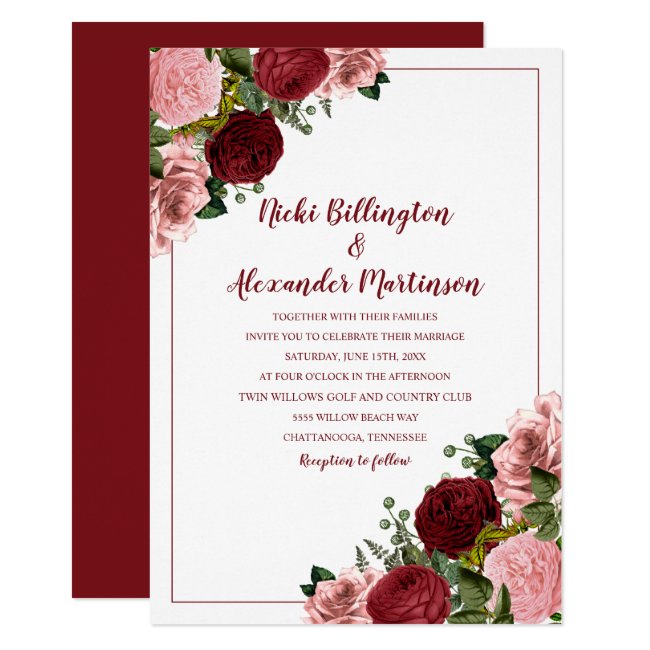 Rustic Burgundy Blush Pink Floral Wedding White Invitation
Rustic burgundy and blush pink boho-style floral wedding invitation with a white background. Perfect for weddings in spring, summer, fall, or winter.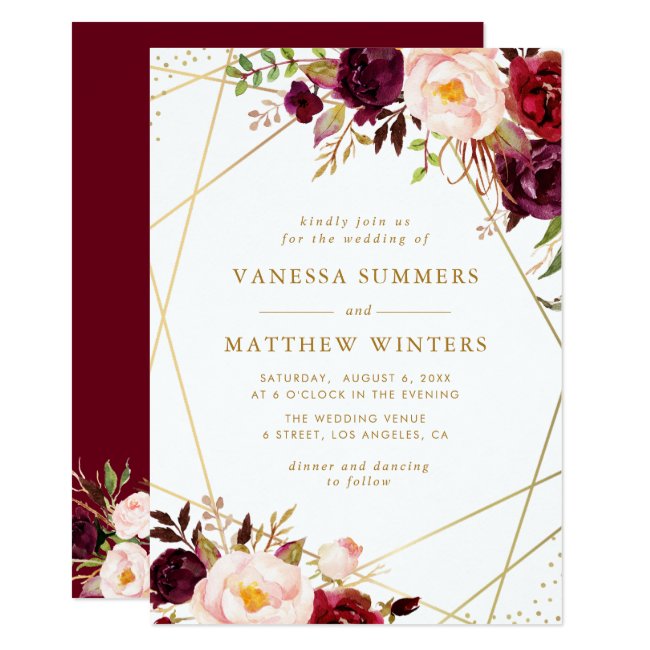 Geometric gold frame burgundy floral wedding invitation
A beautiful design with lovely hand painted burgundy and blush watercolor flowers and a modern geometric faux gold frame with text in the middle. The text and back color can be edited along with other features of this template. For the best quality i recommend HD printing option.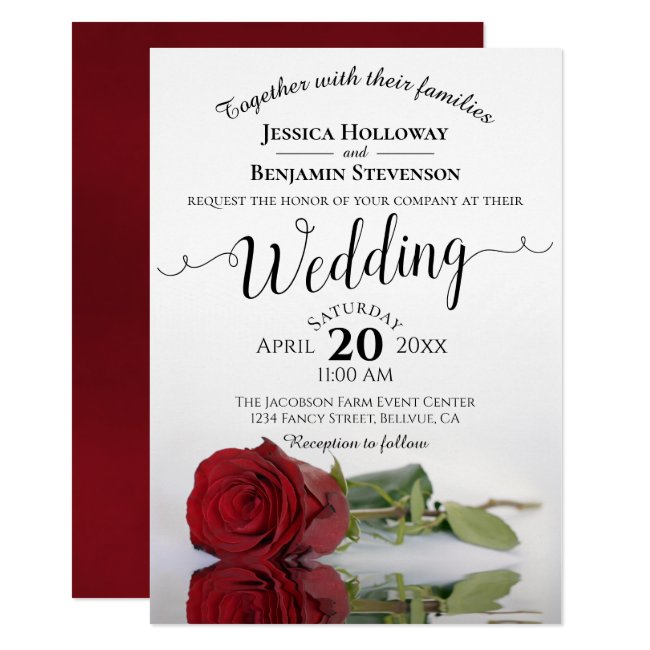 Elegant Long Stemmed Red Rose Romantic Wedding Invitation
This gorgeous wedding invitation features a modern floral design with a single long stemmed red rose lying on its side reflecting in a pool with waves and ripples. The design is simple, elegant, romantic and sophisticated, with lacy script calligraphy and fully customizable content.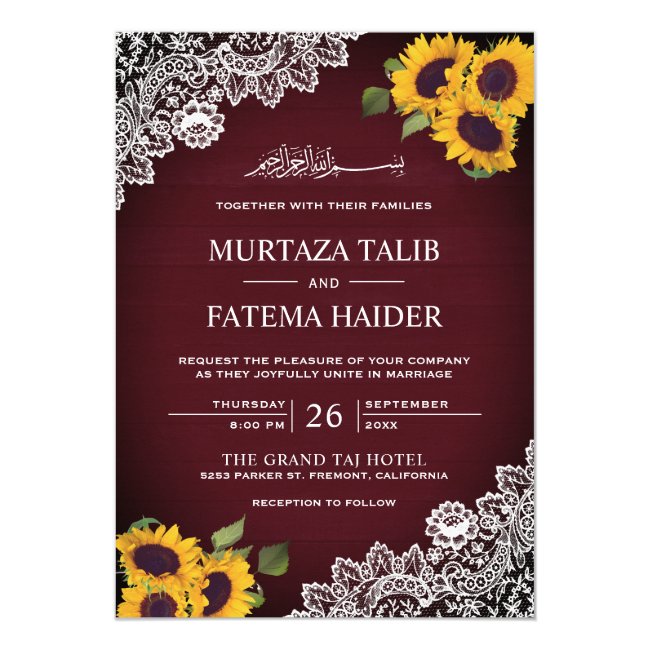 Rustic Burgundy Wood Lace Sunflower Muslim Wedding Invitation
Invite your guests with this elegant rustic wedding invitation featuring beautiful sunflowers and lace with 'Bismillah' in Arabic calligraphy on a rustic barn wood background. Simply add your event details on this easy-to-use template to make it a one-of-a-kind invitation.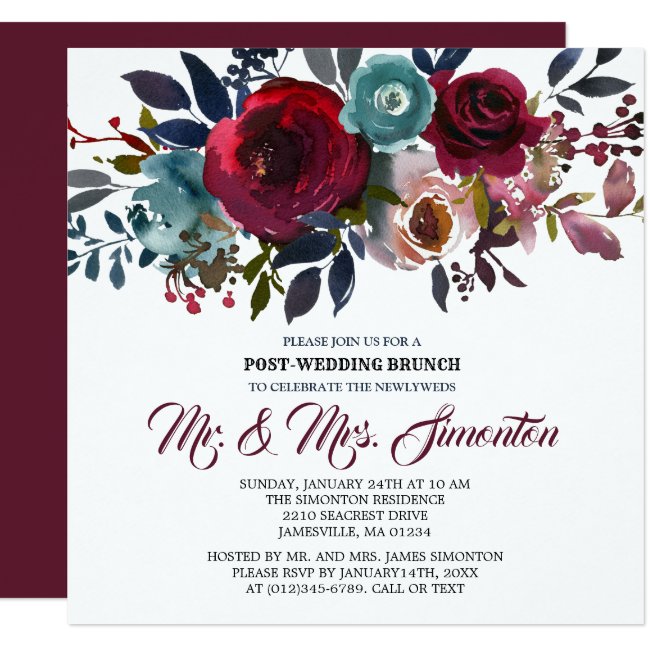 Red Burgundy Floral Post-Wedding Brunch Invitation
Beautiful floral display of deep burgundy flowers, creamy pink and light teal blue. Lots of leaves in different colors and shapes - even a few red berries. These give it a bit of a Boho vibe. But the elegant fonts keep it on the chic side of Boho. The back is deep burgundy red and has a beautiful floral bouquet that coordinates perfectly with the spray on the front. The newlyweds' names are below in white flowing script. This is part of my Burgundy Watercolor Boho Chic Floral Collection.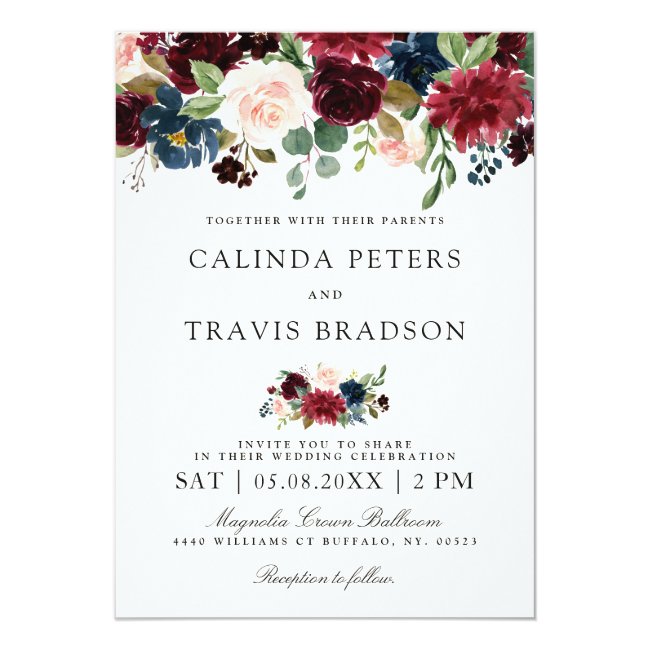 Burgundy Bouquet | Floral Wedding Invitation
A unique burgundy floral themed set of invitations tailored specifically to your future wedding. This item is a single piece of the Burgundy Bouquet wedding collection. Visit the collection or the color jungle store to see more matching items. All elements of this item are unlocked and customizable by using the customization function. Enjoy being creative and making it your own.