Personalized Just Married Wedding Announcement Card Templates, You can personalize all wedding announcement cards.
 
Just Married Modern Casual Script Wedding Announcement Postcard
Elegant and modern wedding announcement postcard featuring a hand lettered casual script that says "Just Married" on top of your photo. The message on the back of the card is editable.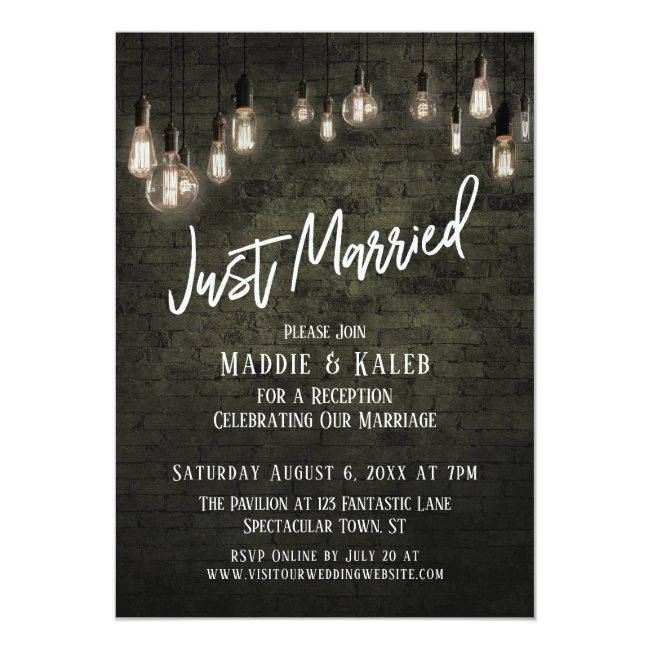 Industrial Brick with Edison Lights Just Married Invitation
This modern, industrial wedding reception card features a dark gray brick wall overlaid with old-fashioned, trendy Edison light bulbs. I've used a modern handwritten font to render a graphic depicting the words "Just Married". Your own text is easily added for customizing this template as little or much as you wish. Use the template fields to simply enter your personal details, and click to customize further if you'd like to re-position any of the unlocked layers or change your font. Please do not hesitate to reach out to me for special requests or for assistance with customization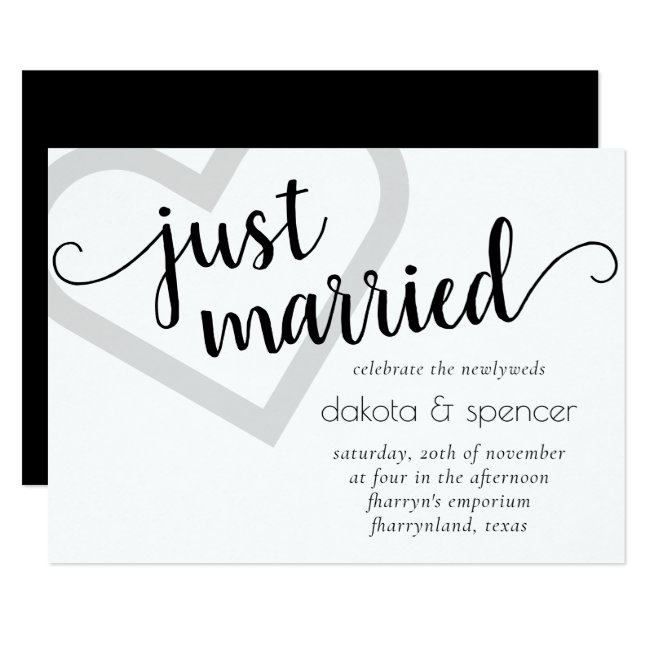 Minimalist Script | Heart Just Married Reception Invitation
Simple black and white "just married" reception invitation featuring a fun, casual hand-lettered script with a heart. The classic design includes a modern handlettered quote typography overlay.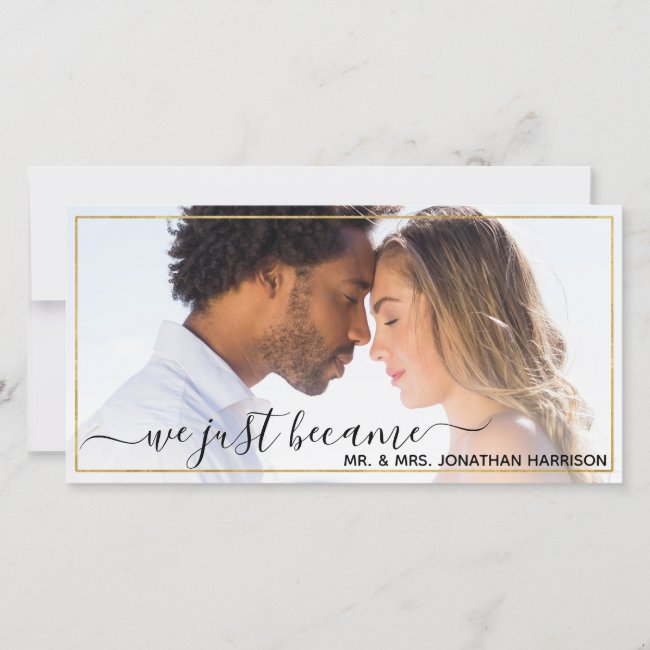 Website Simple Elegant Black & Gold Just Married Announcement
This simple yet elegant tropical and modern just married wedding announcement and reception card features your own photo with the sentiment "We just became Mr. and Mrs." on the front of the card with hand lettered script typography, as well as your married names with a gold border. Back of the invitations features the same boder and your wedding reception information, including wedding website or social media link, on the back. They are perfect for the reception being held at a rustic, elegant, outdoor, barn, garden, farm, or any modern or trendy wedding venue. Easily personalized with your own photo and wedding reception information, and the background color is also customizable.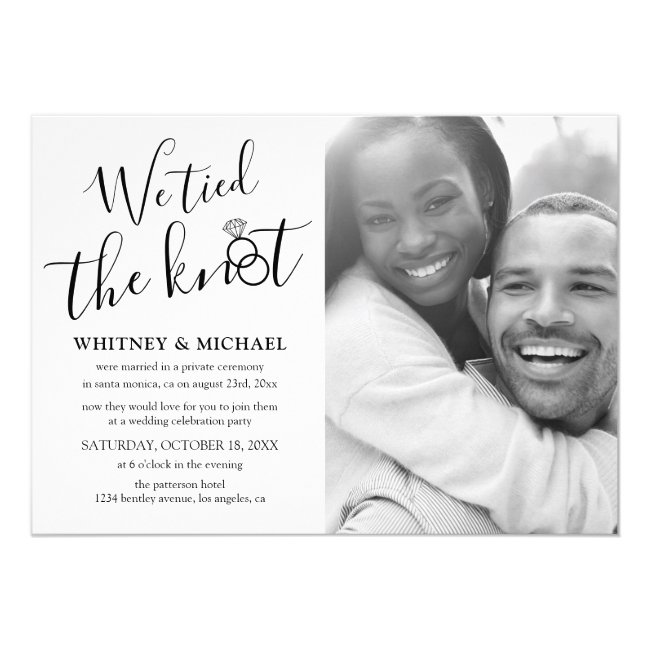 We Tied the Knot Eloped Announcement
Classic black & white post wedding party invitations featuring a clean, simple white background that can be changed to any color, a photo of the married couple, and an elegant timeless wedding eloped celebration template that is easy to personalize. For further personalization, please click the "Customize it" button to modify this template. All text style, colors, and sizes can be modified to suit your needs.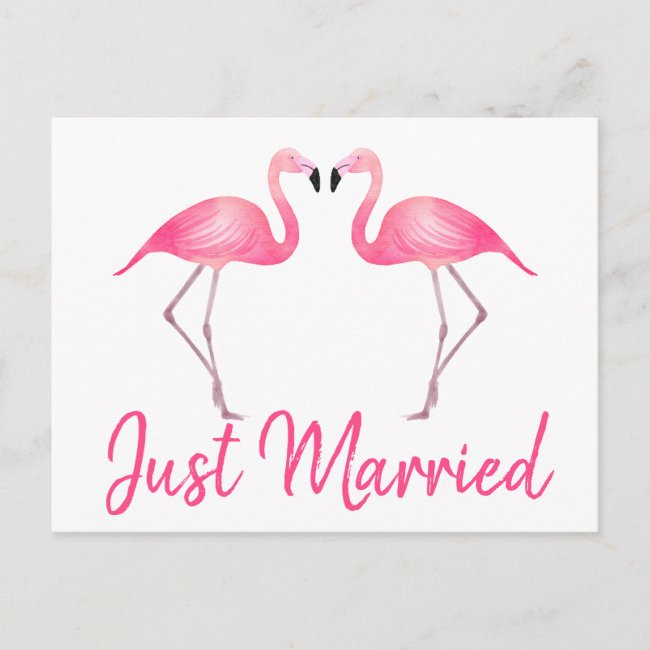 Tropical Just Married Pink Flamingo Beach Wedding Announcement Postcard
by merrybrides Love is in the air! Proudly announce to your friends and family that you and your sweetheart just got married with this cute pink flamingos wedding announcement. Fun announcement for your summer, beach, or tropical wedding. Pink flamingo wedding announcement postcards are an economical alternative to greeting cards when you want to announce your marriage. Please scroll down to view matching owls you may enjoy.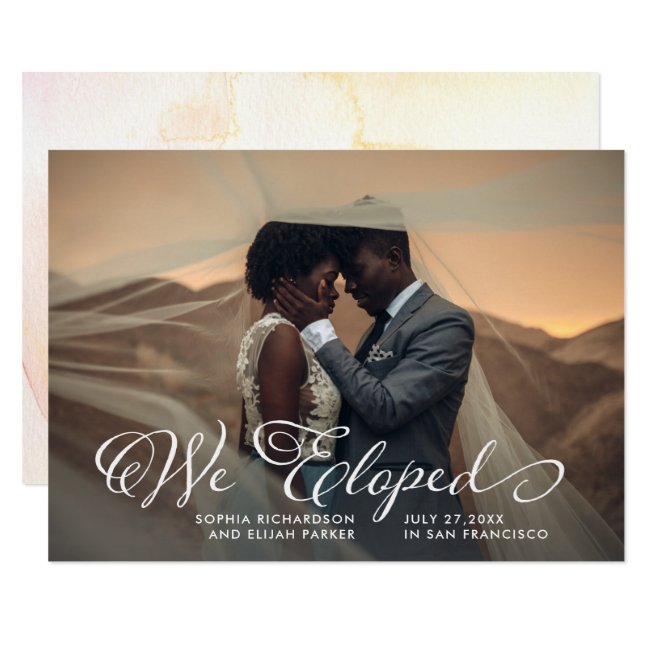 Whimsical Words | We Eloped Photo Announcement
This elegant and trendy wedding elopement announcement features lovely white calligraphy over your personal wedding photo, and a soft peachy watercolor wash on the back.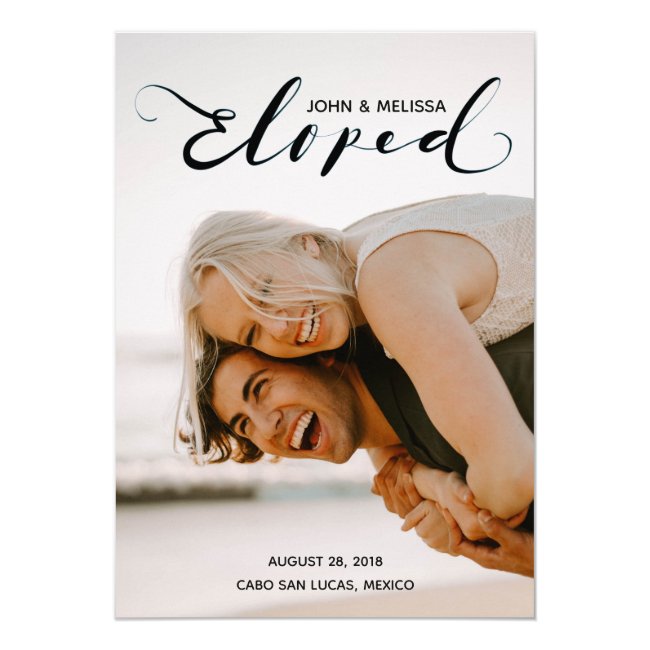 Simple Black Eloped Personal Wedding Announcement
Share the fantastic news of your destination elopement with this card that is all ready to go! Change your photos to your most favourite from your elopement, update the names, date, location, and include a message to your family and friends. This announcement card features a handwritten calligraphy headline "eloped" in black (white is also available in another listing) and adds a little elegance to your simple yet bold statement surprise in the mail!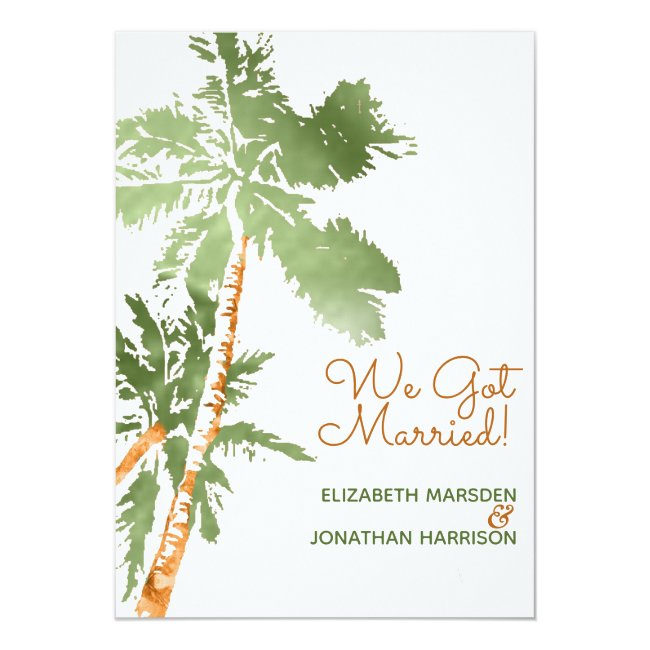 Tropical Palm Just Married Beach Wedding Reception Invitation
This tropical and elegant modern just married beach wedding announcement and reception invitation features your names on the front in elegant vintage copper script over a photograph of tropical palm trees that have been enhanced with faux copper foil, and your wedding reception information on the back over a green ombre background. Can be used with coordinating RSVP cards, or have them respond via your wedding website. This is perfect for the couple that got married at the beach, in the tropics, in Hawaii, Florida, the Caribbean, Australia, the Mediterranean, or any other tropical or destination wedding setting.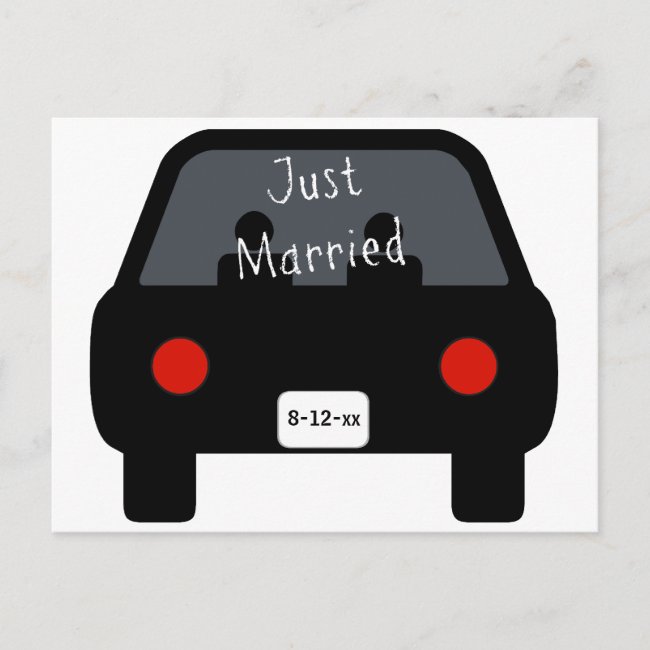 Just Married Car Announcement Postcard
Have you recently gotten married? Need help spreading the word? This simple and cute car design with "Just Married" written in the window and the date of your union on the license plate is just the way to do it! Great as an announcement, or to invite guests to a reception