Best 10 Personalized Elegant Engagement Party Invitation Templates.
 
Modern Elegance Black and White Engagement Invite
Modern Elegance Black and White Wedding Engagement Invitation features "Engagement" in beautiful calligraphy surrounded by a minimal black border with the bride and grooms' names and other details in a traditional serif font. Personalize with your wedding engagement details. This design is available in a variety of formats and accompanying wedding event products.

Elegant gold wedding. Botanical engagement party Invitation
Elegant gold botanical engagement party invitation. Printed card doesn't contain real foil or sparkles. Please contact me if you need additional items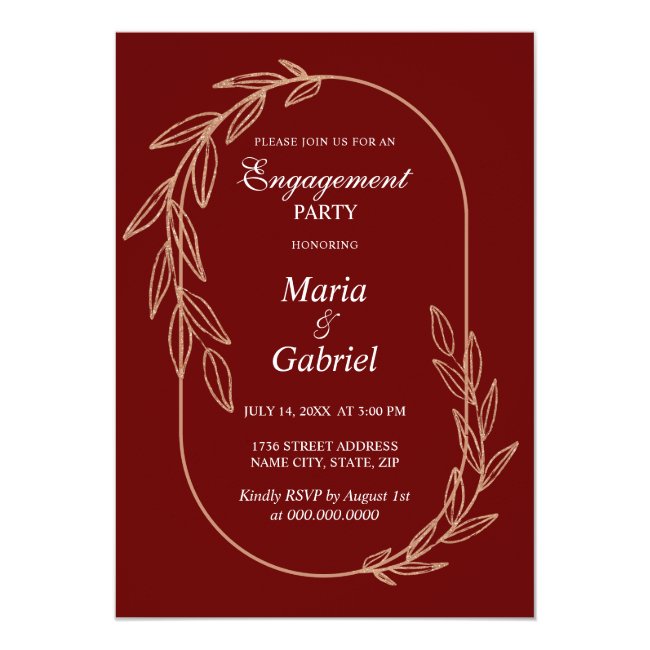 Gold leaves. Elegant frame. Red Engagement Party Invitation
Luxury dark red Engagement Party Invitation. Chic stylish frame and Rose Gold leaves. Elegant choice for summer beautiful wedding. Part of a wedding collection

Burgundy Red Gold Confetti Border Engagement Invitation
This elegant and modern wedding engagement party invitation is ideal for a classy and formal event. It features a faux printed sparkly gold glitter confetti sprinkled over a thin geometric diamond and rectangle border with a burgundy red thick border underneath and light burgundy red fill. It's chic, luxurious, pretty, simple, and trendy; the perfect design for your special day.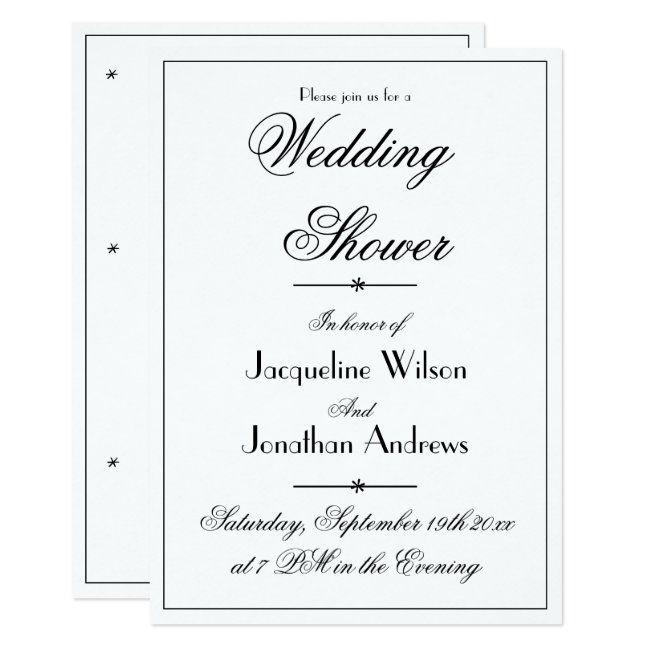 Elegant Wedding Shower Chic White Custom Invite
by ijustwanna Simple elegant romantic white Wedding shower invitation for couples with bride and groom names and date of your wedding shower on the front, party location, RSVP, your email address and Bride Registered At on the back. Click "personalize this template" to customize wedding shower invitation quickly and easily, with your own special details. All text is customizable. Beautiful classic vintage look with stylish decorative fancy black script lettering on a white background. Chic classy minimal White Wedding Shower Invitation you can customize to add that special touch.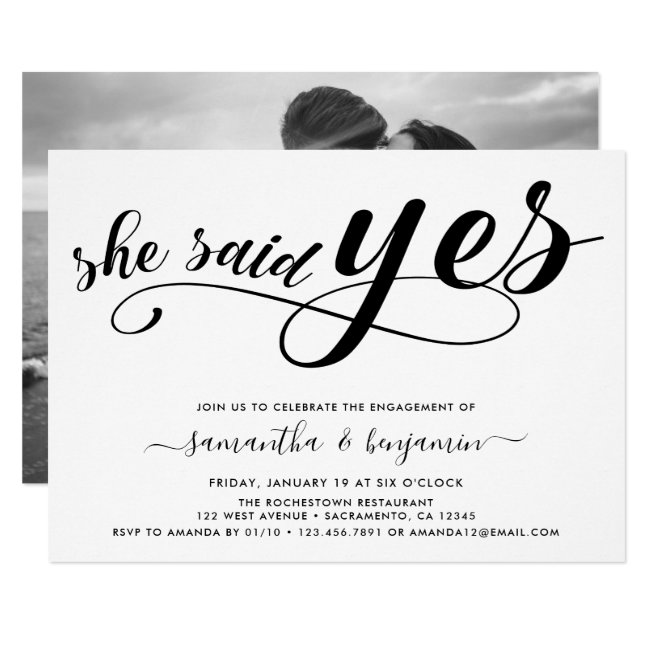 She Said Yes Black& White Photo Engagement Party Invitation
Modern , trendy, simple engagement party invitation features '' she said yes'' calligraphy script in handwritten lettering , couples names and party details. Add favorite photo of the couple on the back.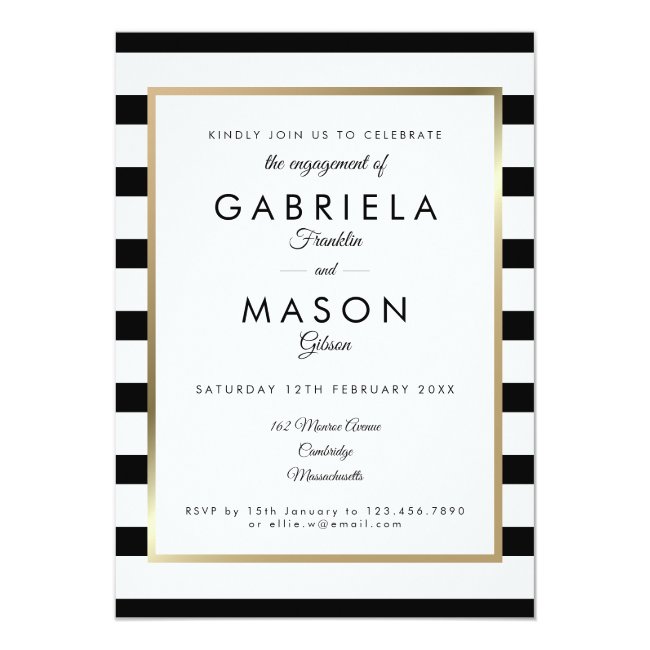 Classic Stripe Engagement Party | Faux Gold Foil Invitation
by thisisnotmedesigns With a classic black and white stripe background, this elegant engagement party invitation features an elegant faux gold foil border framing your engagement party details set in chic typography.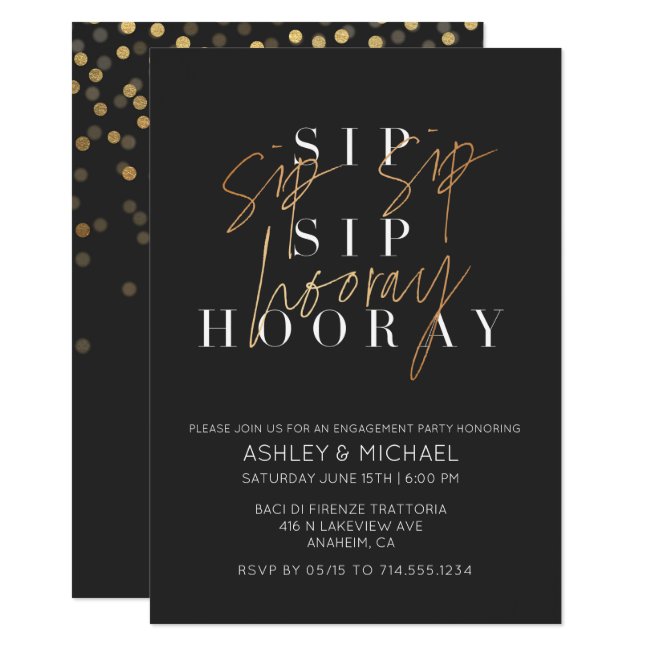 Sip Sip Hooray Black Gold Engagement Announcement
It's time to celebrate! Our Sip Sip Hooray Engagement Party Announcement Invitation features "sip sip hooray" in modern duo type presentation with blush and white hand lettered script typography over classic serif type. The background is a soft off-black, and the card is personalized in modern sans serif type. The back of the card features the same rich dark gray background with gold falling confetti with a sense of depth from bokeh. A beautiful modern engagement party invitation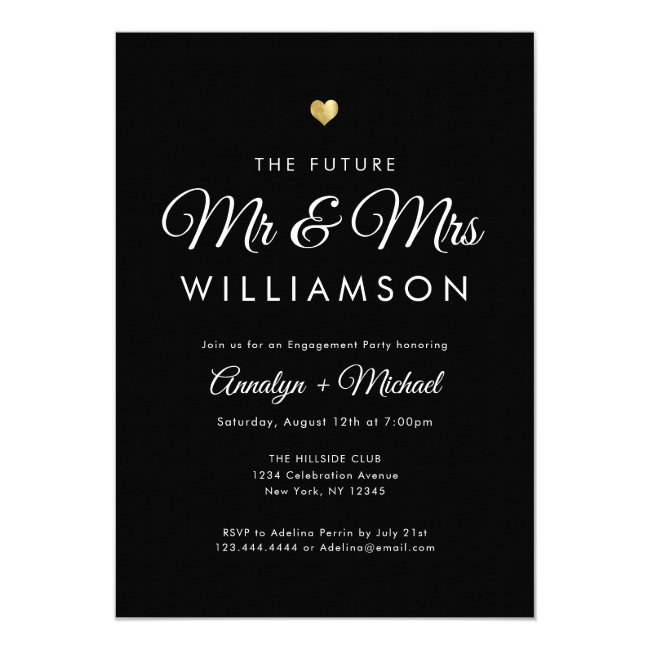 Black Future Mr and Mrs Gold Engagement Party Invitation
This minimal black and white engagement party invitation shines through its simplicity. Beautiful script reads "The Future Mr. and Mrs" alongside your personal celebration details in modern typography. Above sits a delicate faux gold heart.

Glam Gold Painted Dots Geometric Engagement Party Magnetic Invitation
This trendy magnetic invitation should be perfect for anybody preparing for a engagement party in modern elegant style. This fabulous painted magnetic invitation appears in soft gold with a beautiful smooth gold speckles on a soft white background. This magnetic invitation is decorated with soft gold. The party wording appears in handwritten fancy lettering. They are perfect for that classy couple. It is straightforward to customize these to make them perfect for you.
Thank you for letting us be part of your special day.