Customizable calligraphy bridal shower invitations with modern designs that you and your guests will appreciate.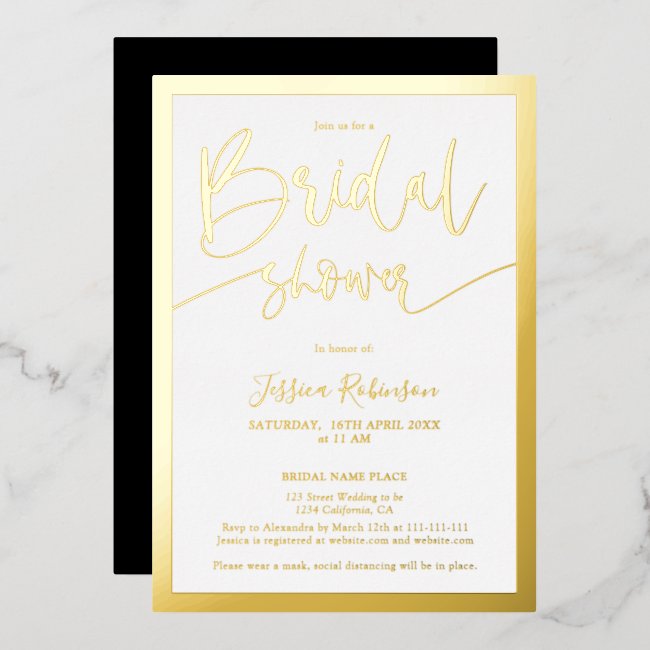 Modern white script trendy bridal shower gold foil invitation
Modern real gold foil and white geometric frame border script trendy bridal shower invitation with a modern, cool hand written style script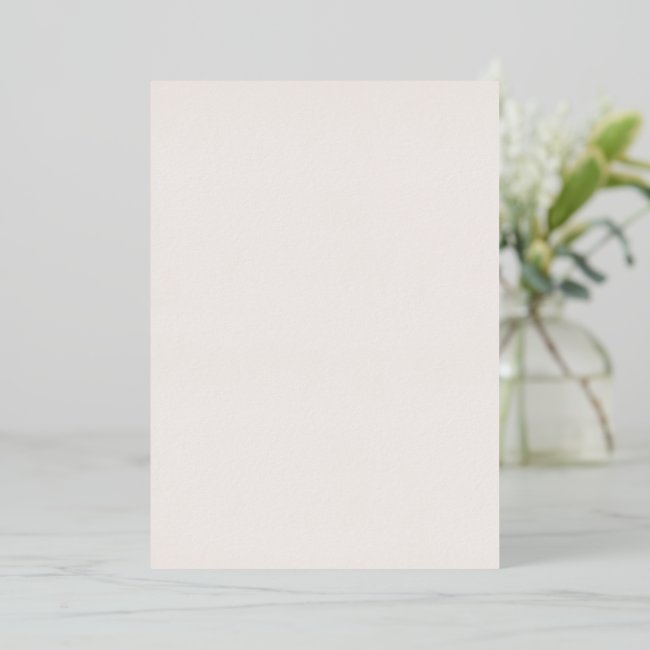 Minimal Rose Gold Foil Blush Brunch with the Bride Foil Invitation
This minimal rose gold foil blush brunch with the bride foil invitation is perfect for a simple wedding shower. The modern romantic design features classic luxury metallic rose gold foil typography paired with a rustic yet elegant calligraphy with vintage hand lettered style. Customizable in many colors. Keep the design simple and elegant, as is, or personalize it by adding your own graphics and artwork.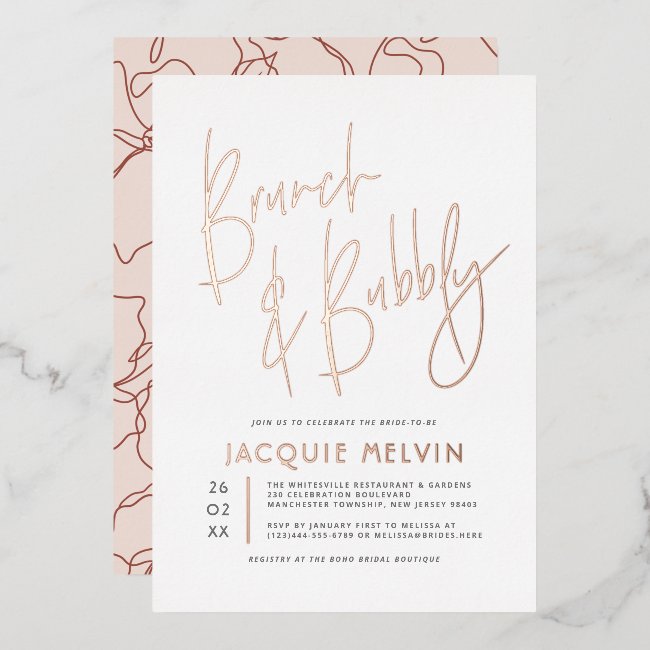 Real Rose Gold Foil Brunch & Bubbly Bridal Shower Foil Invitation
A simple, modern design featuring "Brunch & Bubbly" in script hand-lettering with the bride-to-be's name below in chic open-face capitals, both in real pressed rose gold foil. The celebration date appears to the left in a stacked layout with the venue, address, and rsvp information to the right. The cards reverse to an elegant line drawing floral pattern. A minimalist rose gold calligraphy design - sure to match any bridal brunch event! The color scheme is a boho desert-style blush pink.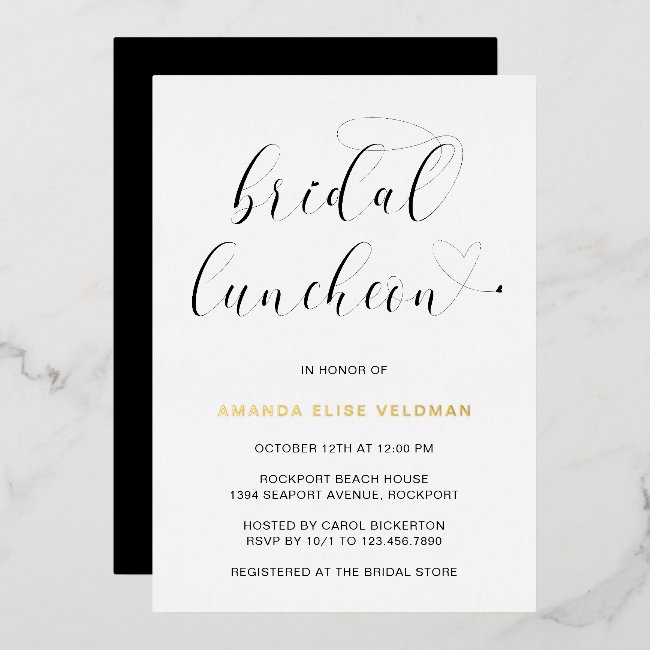 Modern Black White Typography Bridal Luncheon Gold Foil Invitation
Typography Bridal Luncheon Invitation featuring the words, "bridal luncheon" in calligraphy with swashes and a heart at the end and dotting the "i". Your name is in real gold foil and your event details are in black and white. The simple and minimal layout and lots of open space give this design a modern feel and the calligraphy lettering and heart give it a romantic twist.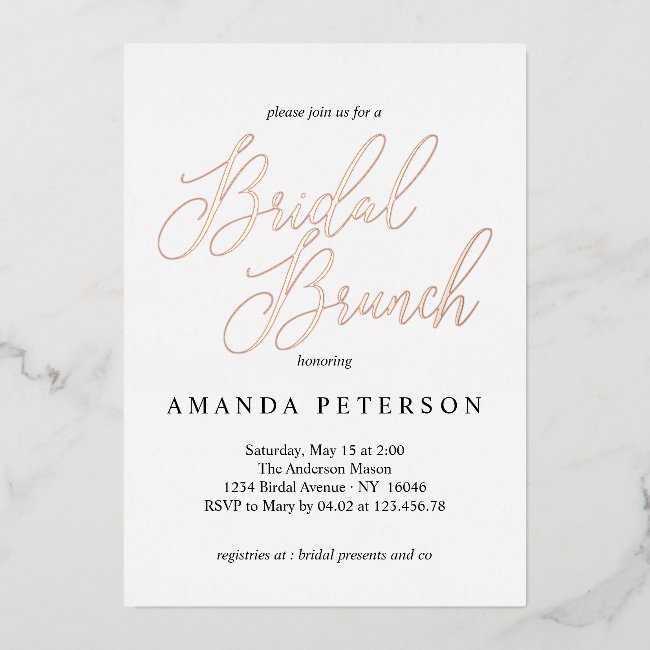 Elegant Typography Calligraphy Bridal Brunch Foil Invitation
Bridal shower invitations and inspiration for invitation guests to celebrate the bride-to-be. From modern to elegant, vintage to rustic, you will find the perfect bridal shower invite to set the tone for your party.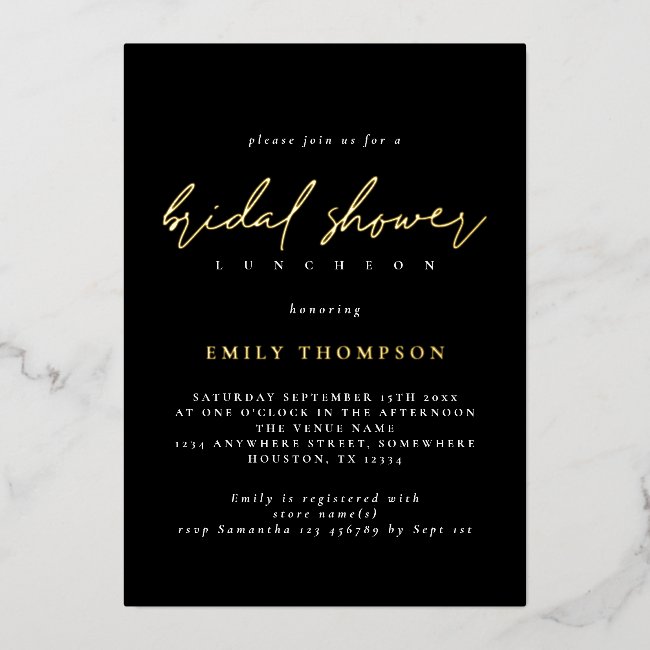 Elegant Script Real Gold Foil Black Bridal Shower Foil Invitation
Elegant Script Real Gold Foil Black Bridal Shower. The elegance of classic black with real foil in gold for Bridal Shower, which is in a stylish set script. and bride to be's name which you can easily personalise, along with the other details.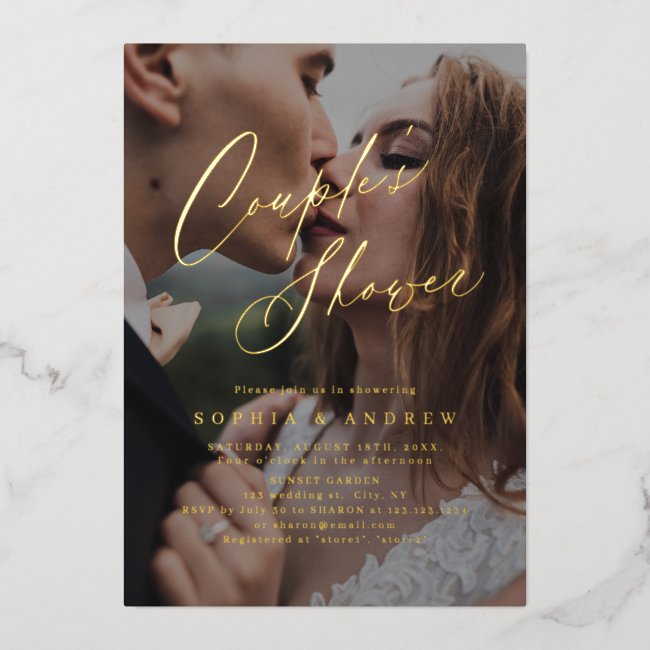 Gold elegant modern script photo couples shower foil invitation
Modern minimalist "couple's shower" script and party details in real gold foil with couples photo, simple and elegant. great couple's shower invitations for modern wedding. See all the matching pieces in collection.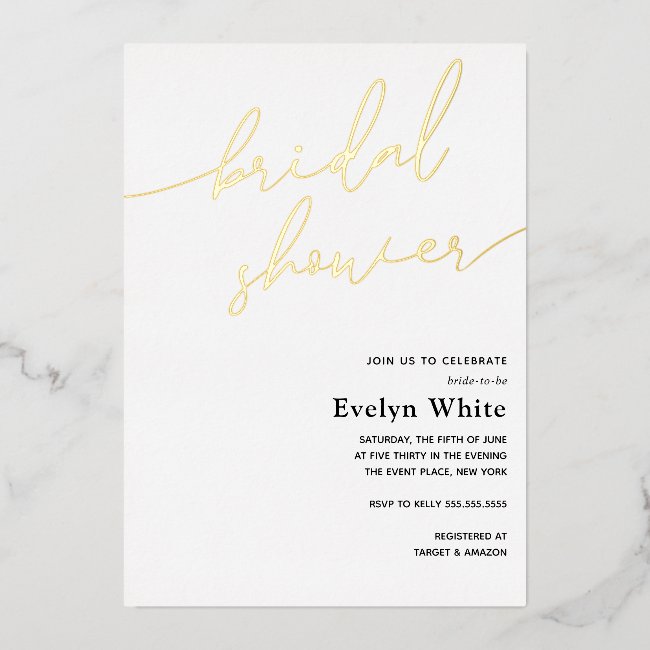 Modern Calligraphy Bridal Shower Foil Invitation
This simple bridal shower invitation features a modern calligraphy script. Personalize with your bridal shower event details to celebrate the bride to be.