Best 10 Personalized Weekend Bachelorette Party Invitations. Invite you friends to comes celebrate getting hitched with these Bachelorette Party Invitation Temolates.
 
Bachelorette Weekend Itinerary Cocktail Drinks Invitation
This fun invite featuring girly cocktail illustrations will be the perfect start to a memorable bachelorette weekend or party! Customize with your information for the bride to be. Additional details can be added to the back to let the bride's crew know the itinerary for the weekend or night.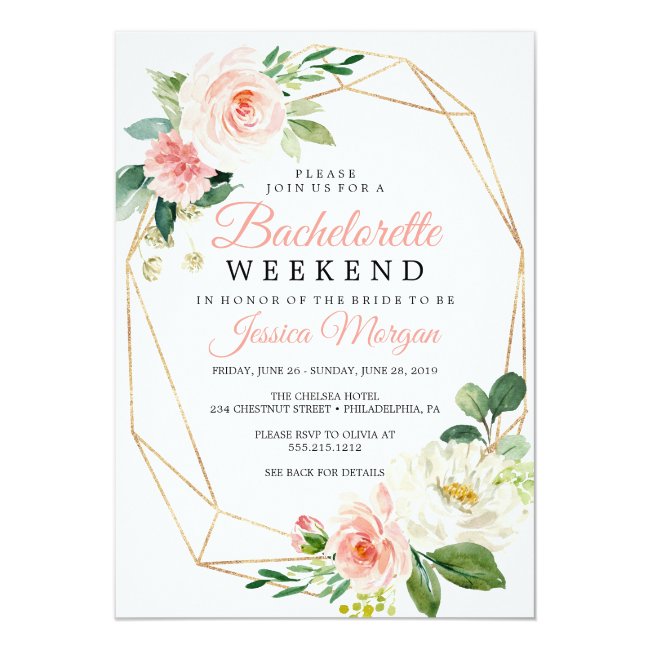 Bachelorette Weekend Itinerary Airy Blush Invitation
This beautiful invite will be the perfect start to this memorable bachelorette weekend!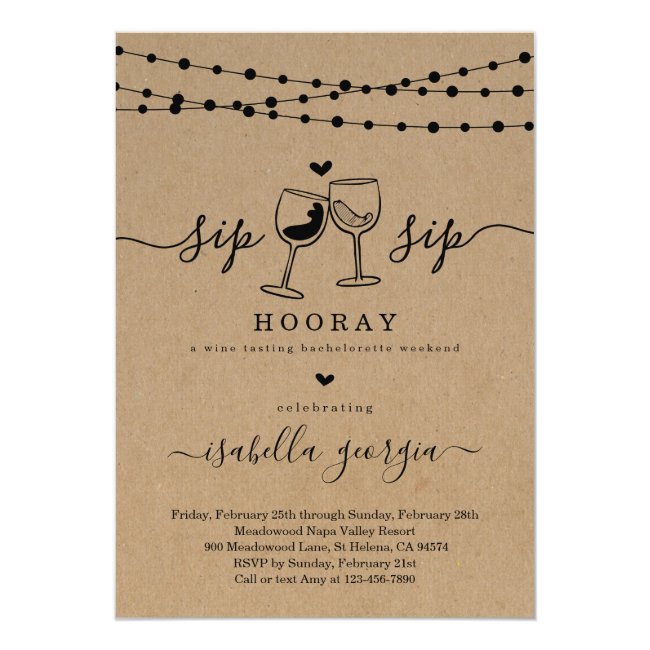 Bachelorette Wine Tasting Weekend Itinerary Invitation
Hand-drawn wine toast artwork on a wonderfully rustic kraft background with an itinerary reverse side.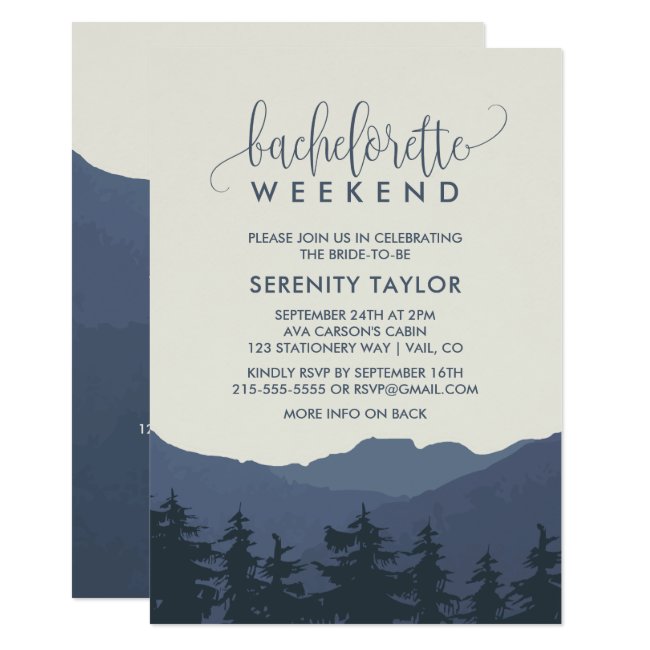 Retreat to the Mountains Bachelorette Weekend Invitation
This retreat to the mountains bachelorette weekend invitation is perfect for a modern bachelorette party. The design features a serene blue watercolor mountain range with a forest of evergreen trees in the foreground. Please note: This is not printed on real kraft paper. It is a high quality graphic made to look like kraft paper.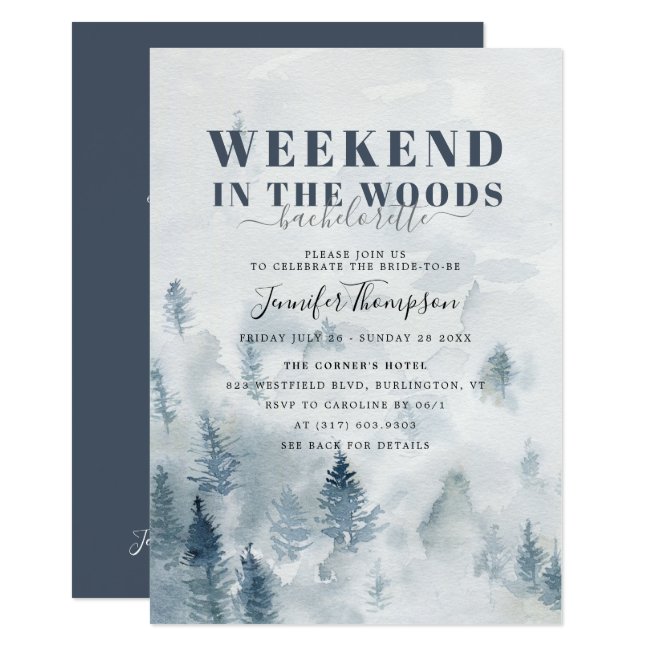 Rustic Woods Cabin Bachelorette Weekend Itinerary Invitation
Enjoy an awesome bachelorette weekend with this rustic and trendy watercolor cabin and mountain, and pine trees invitation, the header in big bold letters and handwritten calligraphy, the design is finished on the reverse with a smoky navy blue background with the weekend event itinerary. Personalize with your information using the template fields provided.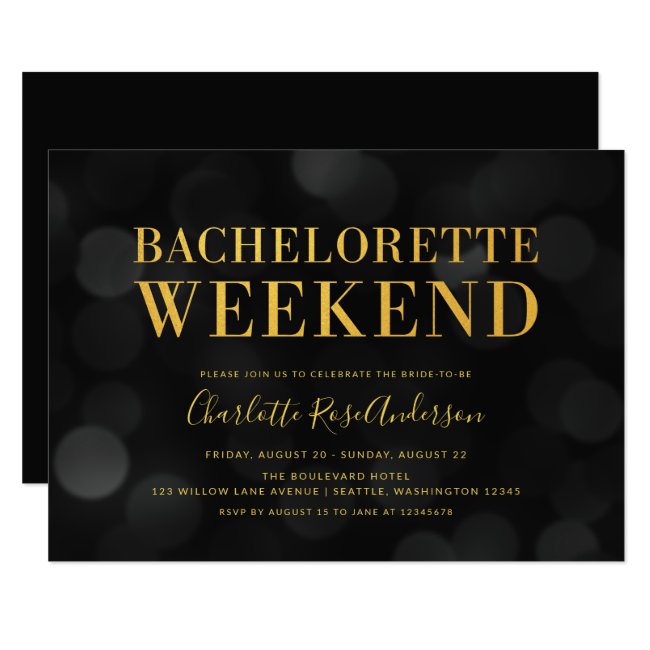 Dark Bokeh Lights Faux Gold Bachelorette Weekend Invitation
Classy bachelorette party invitation featuring the words "Bachelorette Weekend" in faux gold foil against a dark bokeh lights pattern background. Invitation has a dark color background back side. You can also add the itinerary on the back side, if you wish, by clicking "customize" and adding text. Personalize this invitation with your details by replacing the placeholder text. For more options such as to change the font, text size/color or the spacing between letters click the "Customize" button.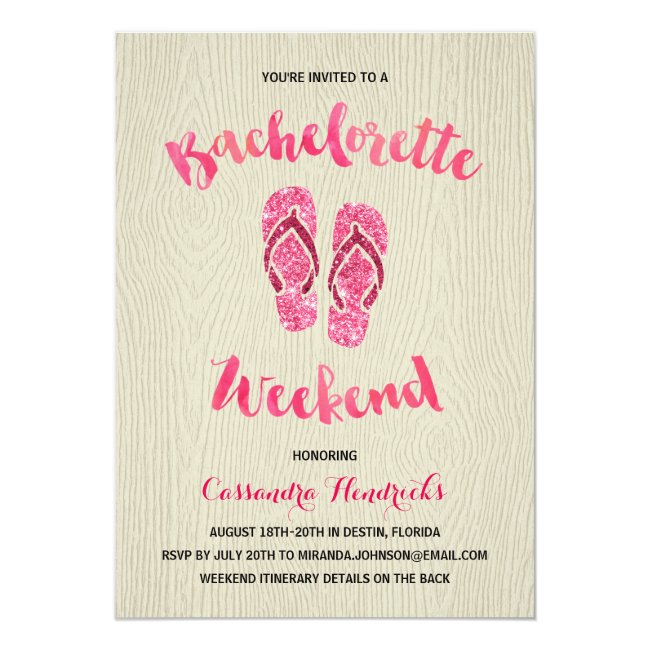 Bachelorette Weekend with Pink Faux Glitter Invitation
A cute bachelorette party invite for a weekend getaway, with pretty pink watercolor calligraphy, pink faux glitter sandals, and a beachy, light brown wood grain background.

Eucalyptus Brown Floral Bachelorette Weekend Invitation
This eucalyptus brown floral bachelorette weekend invitation is perfect for a modern bachelorette celebration. The design features artistically hand-painted beautiful eucalyptus green leaves arranged into geometric shapes, inspiring natural beauty.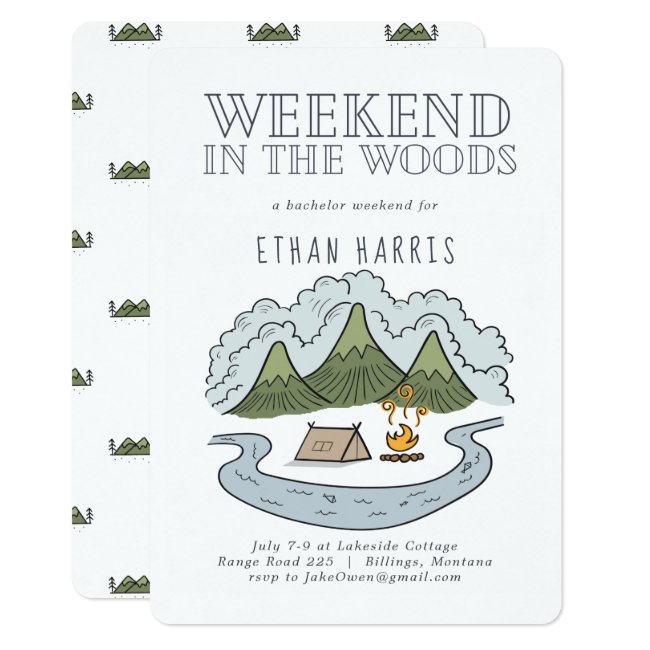 Weekend in the Woods | Bachelor Party Invitation
Mountains are full of rugged yet whimsical charm-- sure to wow your guests! Simple sketch illustrations make these minimal designs simply stylish. These designs can be personalized for your special occasion and would be perfect for your baby shower, bridal shower, engagement party, birthday party and many more special occasions. Add your custom wording to this design by using the "Edit this design template" boxes on the right hand side of the item, or click the blue "Customize it" button to arrange the text, change the fonts and colours and to also add additional information or images to this design.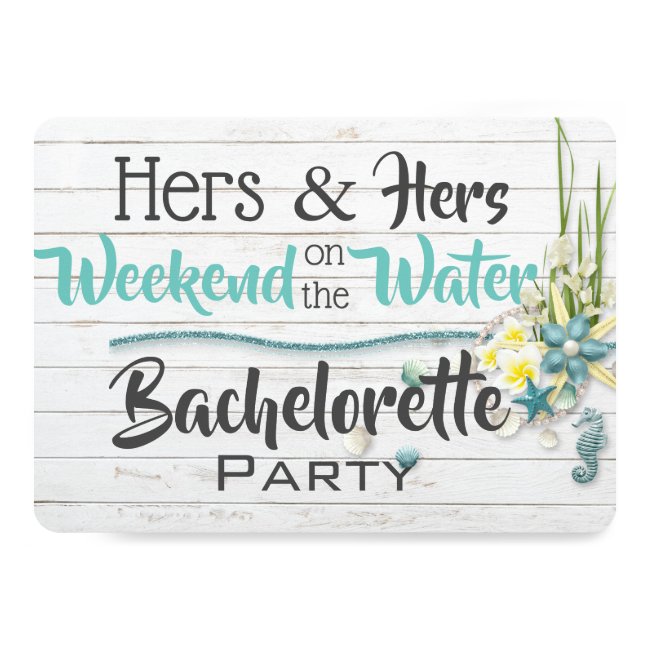 Hers & Hers "Water" Bachelorette Party Invitation
A beautiful "Hers & Hers" "Weekend on the Water" bachelorette party invitation with easy personalization.