Customized shower curtains with pictures and text make your home decor stylish. You can customize custom photo shower curtains with photo collage and slogans. You can write your family name or monogram name.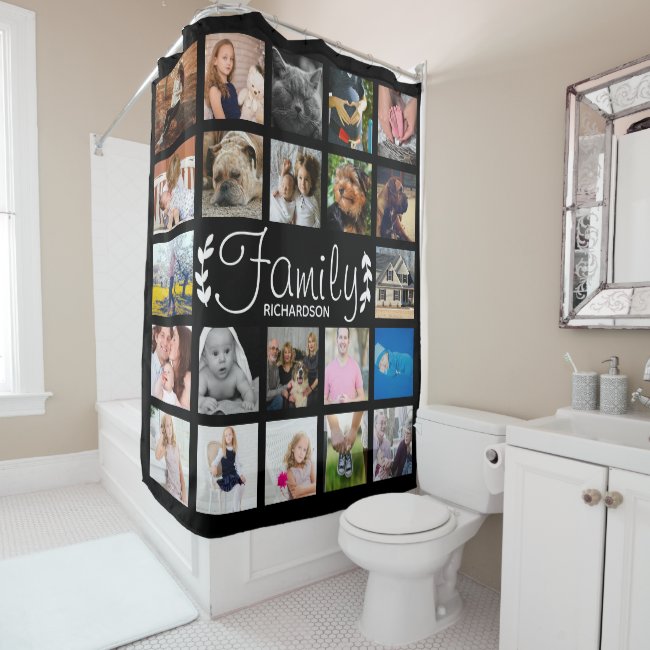 Modern 22 Family Photo Collage & Name Shower Curtain
Modern trendy 22 family photo collage shower curtain featuring your family's name and the word "Family" in script accented with white laurels.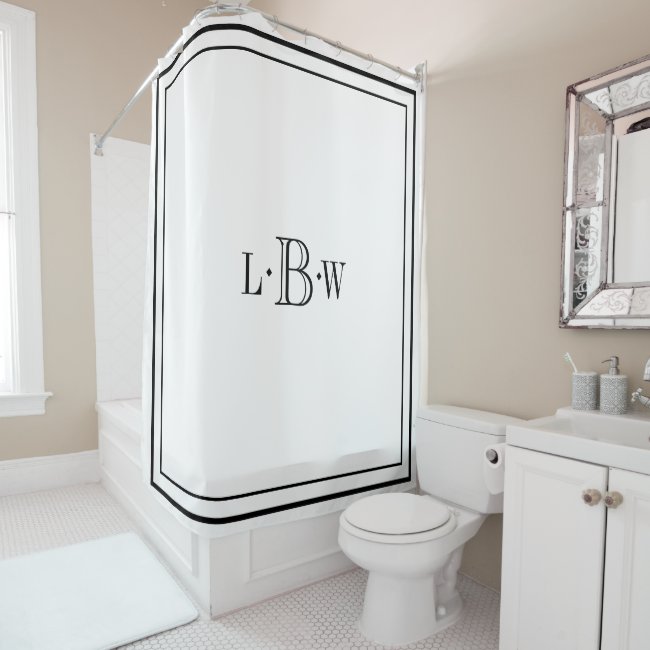 Classic Border Monogrammed Shower Curtain
This customizable Classic Bordered Monogrammed design will add an elegant, chic look to your decor with the feel of a luxury hotel. The color of the border as well as the color and style of the font can be changed to complement your decor. Just click the customize it button to add your personal touch.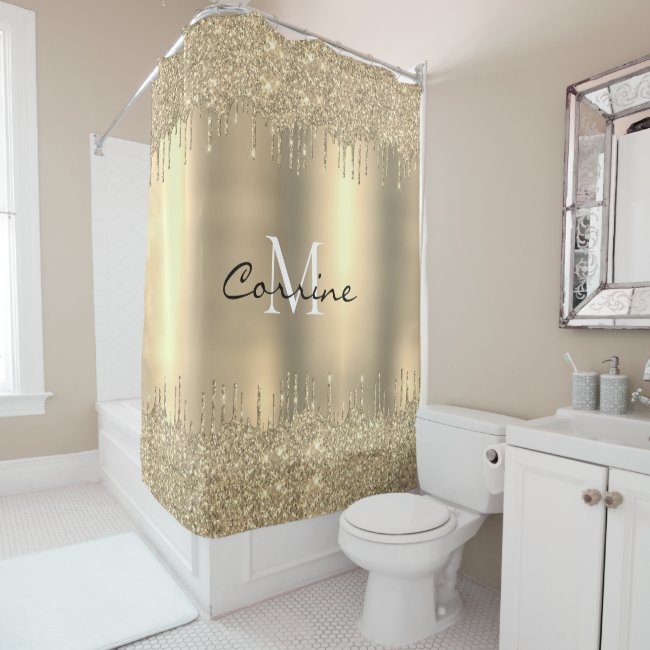 Monogram 14k Gold Dbl Dripping Glitter Metallic Shower Curtain
Custom monogram metallic faux foil gradient with double simulated dripping glitter graphics (top and dottom) bathroom shower curtain. easily personalize this bath curtain by adding your name and last initial with zazzle's easy to use personalization tool.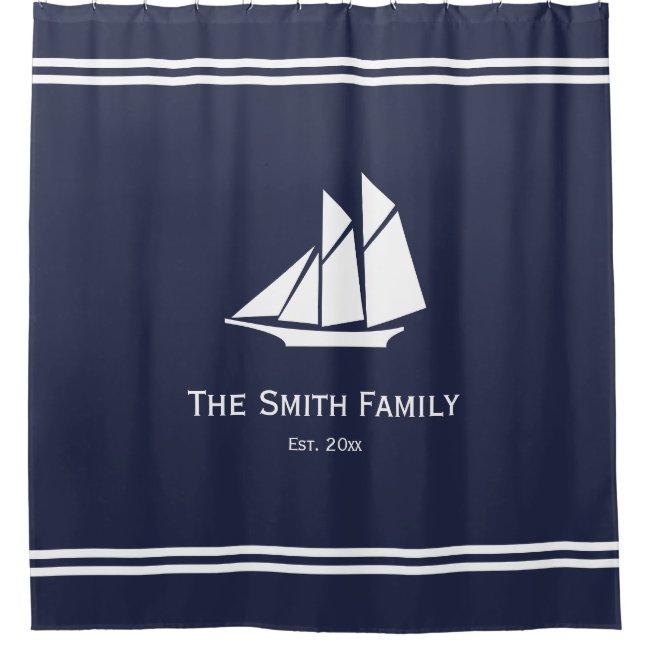 Nautical Custom Text on Midnight Blue and White Shower Curtain
A white sailboat is in the center of a midnight blue shower curtain. Under the boat, there are two lines for your custom text. The text is white. All text can be edited or deleted.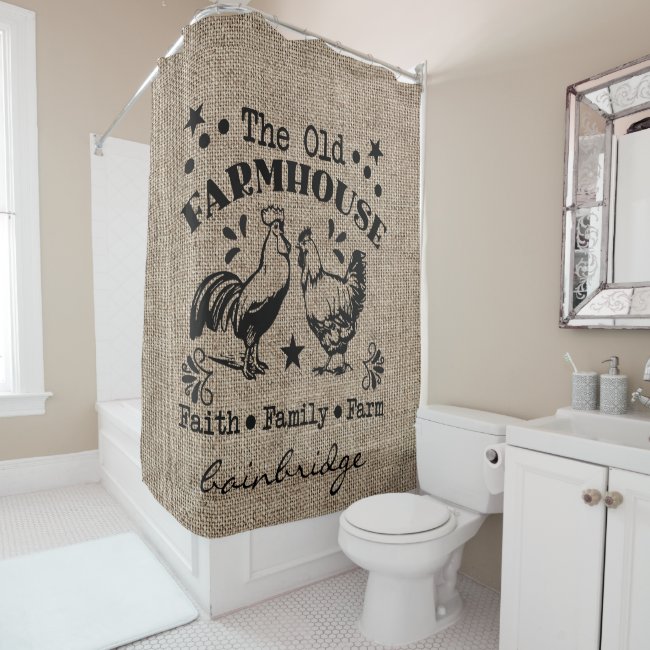 Rustic The Old Farmhouse Personalized Shower Curtain
Add some farmhouse style to your bathroom with this The Old Farmhouse Personalized Shower Curtain. Text is in a rustic style and reads "The Old Farmhouse" and is accented with stars, a rooster and chicken. Shower curtain is personalized with your name. Shower Curtain's background is a simple, distressed, jute (burlap). You can easily personalize your farmhouse shower curtain using Zazzle's easy to use design tool. Shower curtain is part of a collection.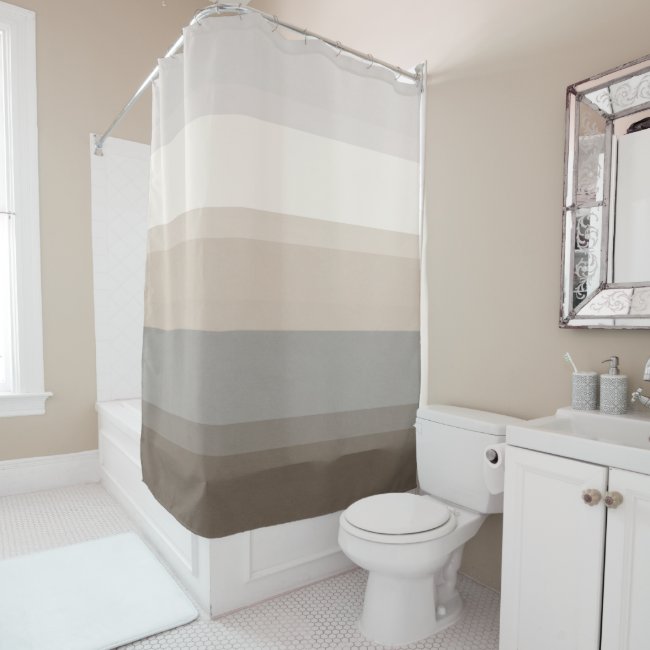 Chic Taupe, Cream and Gray striped shower curtain
Sophisticated and elegant shower curtain. Horizontal bands of light, muted and refined designer colors. Subtle palette of grays, creams, and taupes. Add a stylish, classic design element to your bathroom decor.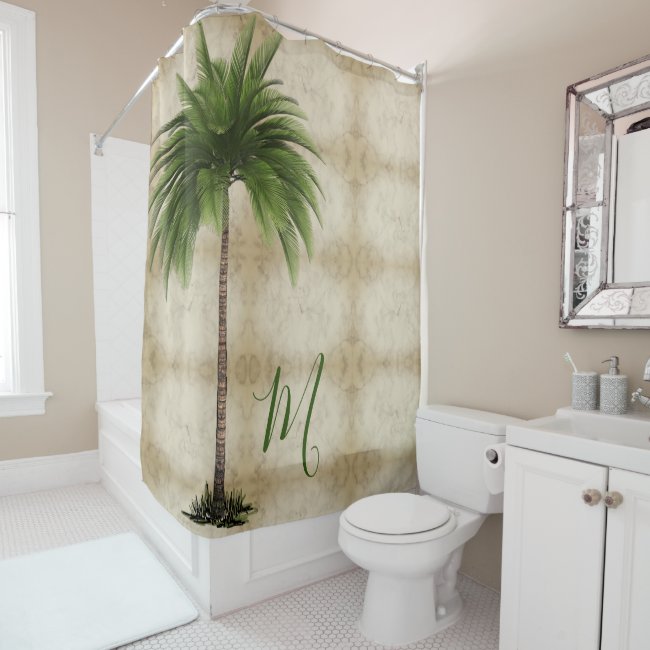 Tropical Palm Tree Vintage Elegant Shower Curtain
Elegant palm tree form part of the canopy over your initial or your family's initial. Remove the letter if you want a plain background. Elegant Tropical Vintage design. The Palm tree is on a background of champagne marble.
Custom White Monogram on Black and White Shower Curtain
Personalize this black and white shower curtain with your monogram/initial. The text is white. The letter is in the center of the curtain. Two white horizontal lines are across the top and bottom.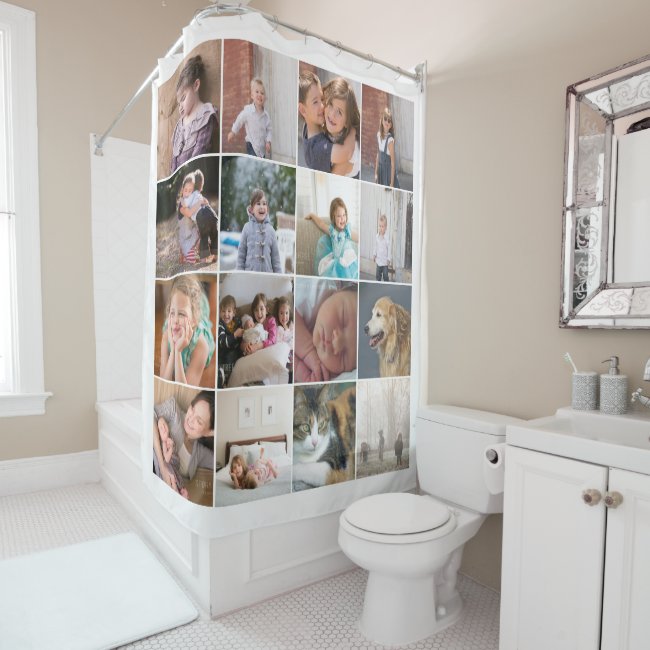 Personalized photo collage with sixteen photos shower curtain
Personalized photo collage with sixteen photos Shower Curtain. Change images with your own instagram photos. and create your photo collage shower curtain.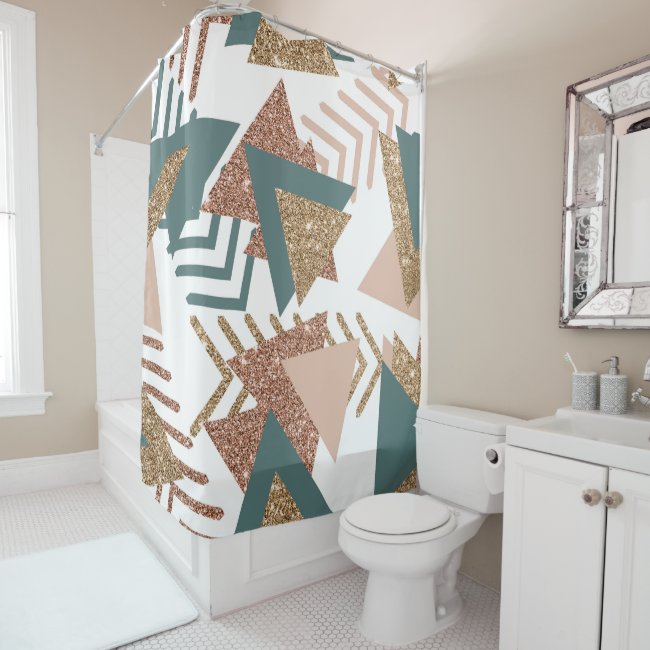 Retro 90s Abstract | 70s Avocado Green Rose Gold Shower Curtain
Abstractart vintage hued modern contemporary geometric abstract pop-art in a 70s neutral earth tones avocado (olive) green and harvest gold palette, with a modern rose gold accent celebrating the 1990s and 1980s with totally awesome retro graphics. The random Memphis-style of the 80s and 90s included seamless patterns of zigzags and triangle shapes in rich jewel tones.
Custom photo shower curtain ideas are here. Personalized shower curtain sets look stylish with personalized photo collages