Fully customizable comfy fleece blankets, you won't have to anymore. Customize the entire front panel and wrap yourself in personalized plush luxury. Add Your Photo Custom Fleece and Sherpa Blankets

Customizable 4 Photos | Fleece Dog Blanket
Perfect fleece blanket to celebrate your pet. This blanket features 4 spots for images of your pet along with a place for your pets name. Further customization is possible with changing font or font color along with the background.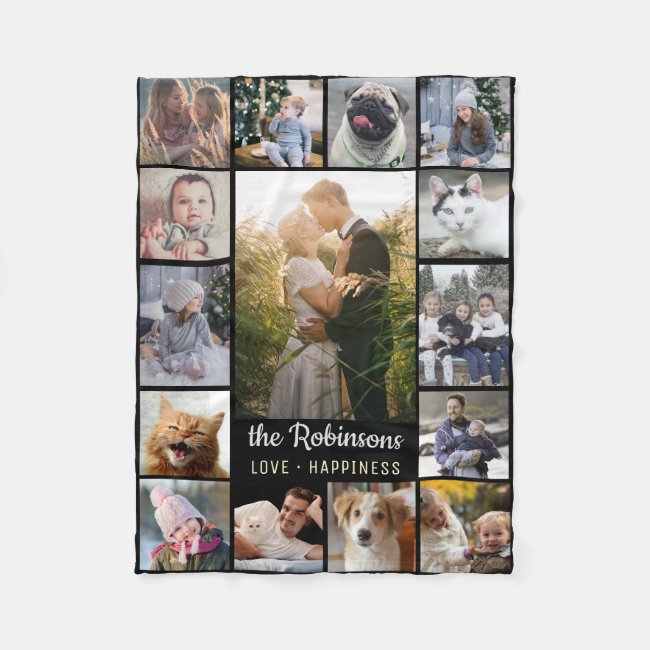 Family Photo Collage 15 Pictures + Name Black Easy Fleece Blanket
Celebrate your family or wedding memories with this beautiful photo collage fleece blanket. This design includes one large central vertical photo, along with 2 smaller vertical photos and 12 square Instagram-style pictures. Add your name in very light gray. The words "Love - Happiness" can also be changed or left as-is (they are currently in light yellow). The simple templates make it easy to personalize. Choose your own blanket size. "Customize further" to make more detailed changes.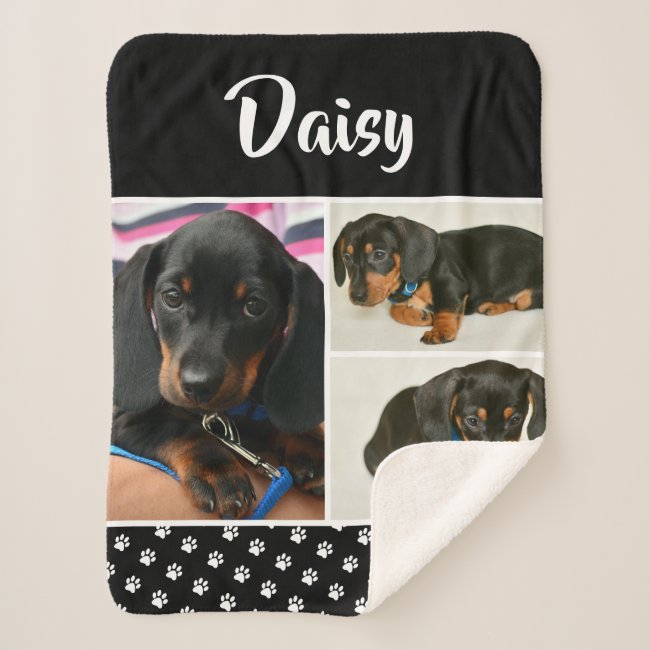 Black Dog Pet Lover Photo Collage Pawprint Sherpa Blanket
This cute black blanket features three spots to add photos of your adorable pet as well as their name. Add pictures of your cat or dog, as well as customize it with their name. A perfect gift for the pet lover in your life.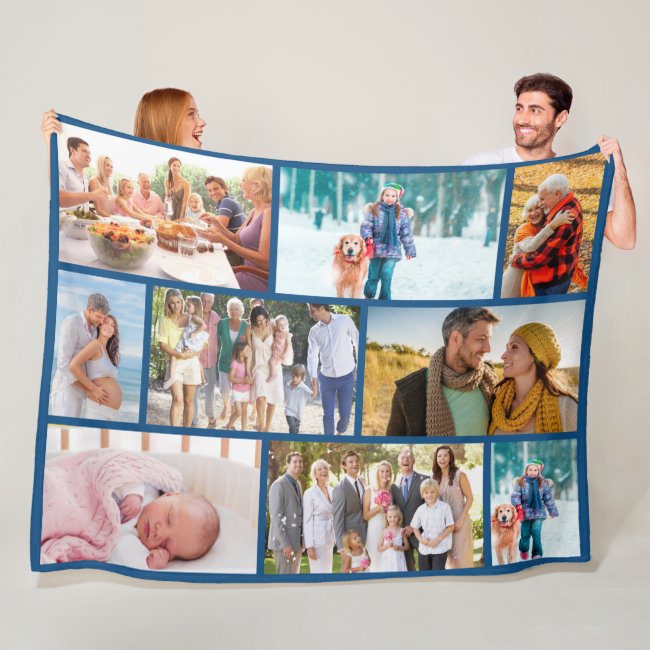 Modern Photo Collage Masonry Style Blue Fleece Blanket
Create your own custom photo banket. This photo collage has a classic blue, masonry grid layout which you can customize with your own photos. The photo template is set up ready for you to display 9 of your favorite family pictures which will automatically display in the masonry style. The design provides for 2 landscape and 1 portrait photo on each of the 3 rows. This design is available in several colors so you can pick the one that looks best with your home decor and/or your photos.

Personalized Tan Name Flying Basketball Blanket
Custom name basketball blanket for true fans of the sport. Beige colored blanket decorated with an illustration of a fast flying basketball. It's personalized with a custom name printed just above the ball in a bold slightly curved print. Makes a great personalized gift for a basketball player and fan of the awesome sport.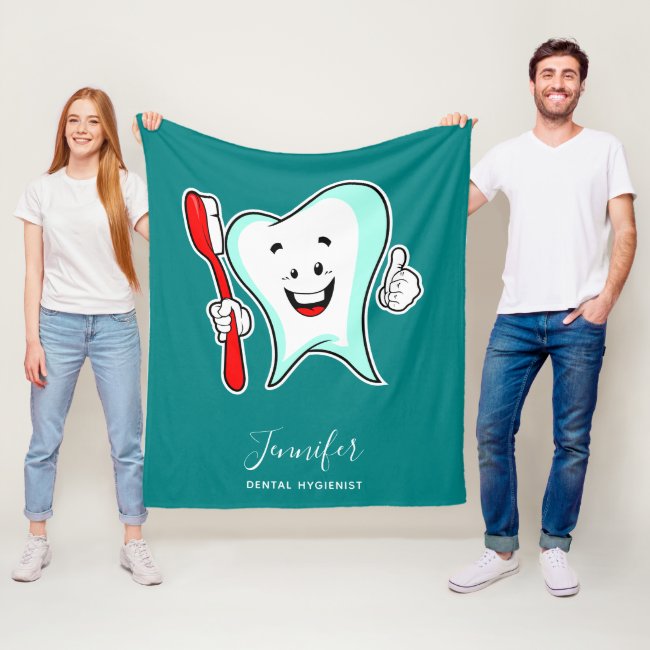 Dental Care Happy Tooth with Toothbrush Fleece Blanket
Blanket with an illustration of a cartoon style big white tooth smiling happily holding a red toothbrush and giving the thumbs up sign.

Wedding Anniversary names est date red grey Sherpa Blanket
Wedding Anniversary gift or a Wedding gift for the happy couple. Add their names, initials and the established date. Designed in red and grey, with love hearts, polka dots and swirl shapes.

Red and grey 40 years Ruby Anniversary Fleece Blanket
leece blanket keepsake gift for a Ruby 40 years Wedding Anniversary gift. Designed in red, white and grey. Add names and the date. 40 years together.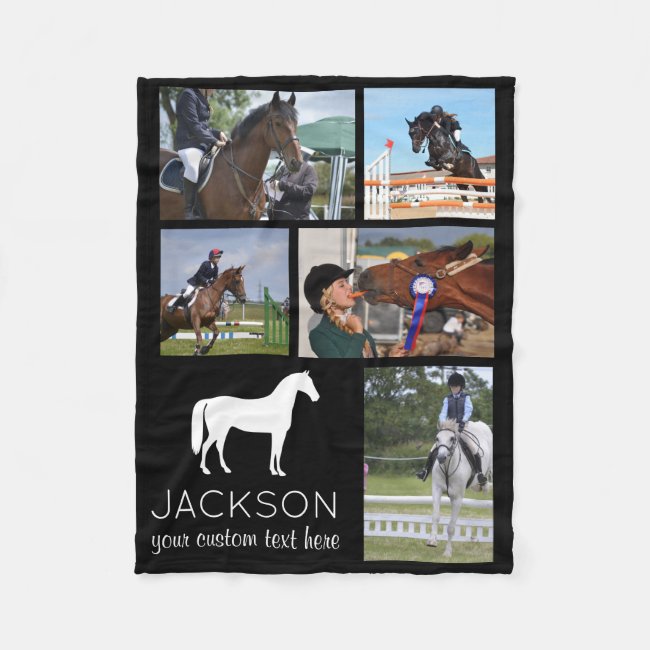 Personalized Horse Photo Collage Equestrian Riding Fleece Blanket
This personalized custom Equestrian fleece blanket features your 5 photos, rider's name and/or custom text. Easily change the background color - just click customize and then the small eye dropper. Cozy and soft, this fleece blanket makes a perfect gift for a riding instructor or horse lover! Check out our other riding gifts by clicking on the Colorfulgalshop logo below and then "Sports - Hobbies".

Outlander | Reclining Jamie Fraser Photograph Fleece Blanket
Photographic gallery image of James Alexander Malcolm MacKenzie Fraser, leaning against a Highland crag, from Season 1 of the Outlander television series